This blog was first published in Global Health NOW June 26, 2019. The authors, Shashika Bandara, Kaci Kennedy McDade, Hanna Huffstetler, and Wenhui Mao are major contributors to the 4Ds project at the Center.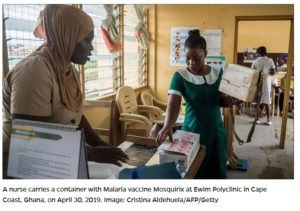 In the last 2 decades, more than 30 countries moved from low-income to middle-income status, a billion people were lifted out of poverty, and there were major reductions in maternal and child mortality globally. Despite this progress, middle-income countries, where over 70% of the world's population now live, are facing unprecedented challenges. The progress they've made is threatened.
In particular, 4 key phenomena—which we call the 4Ds of global health transition—are rapidly reshaping the nature of health in MICs:
Disease: The global burden of disease is shifting away from infections toward non-communicable diseases and injuries. In many MICs, health systems are under-prepared for NCDs. To address them, health systems will need to provide long-term and coordinated care to be able to address multi-morbidity.
Demographics: The worldwide demographic transition that's underway is reflected in many MICs. Their populations are aging, and there is a concurrent bulge in adolescent populations. These demographic shifts are generating greater demands on health systems.
Donor financing: In the coming years, many MICs will transition out of support from major providers of development assistance for health. This means funders like Gavi, the Vaccine Alliance that measure a country's eligibility for aid based on gross national income per capita, will no longer support countries who are considered able to finance their own health programs.
Domestic funding: It will cost MICs an additional $371 billion annually to reach the health targets in the Sustainable Development Goals by 2030.  However, levels of domestic health financing remain low in some MICs due to barriers such as low capacity to raise money via taxes and lack of political will to increase financial commitments for health. Use of domestic funds must increase and become more efficient to sustain health gains.
Ghana is an example of a country facing all 4 of these transitions simultaneously—and like many other MICs, Ghana is not yet fully prepared. First, the country must grapple with an explosive rise in NCDs, while infectious diseases such as malaria still cause the highest number of deaths. Second, a demographic shift has resulted in a large youth population and growing elderly population that is straining the health system. Third, while Ghana has enjoyed significant economic growth over the past 20 years, the country faces the imminent loss of development assistance for national health priorities such as vaccination. Fourth, Ghana is assessing how it will mobilize domestic resources and adapt its health financing system to respond effectively to these challenges.
These interlinked transitions threaten to stall or even reverse global health progress. A focus on tackling diseases or mobilizing domestic resources in isolation will not be sufficient. A "joined up" strategic approach is crucial. The responsibility to act lies with both countries and development partners.
In a "joined up" approach, countries and development partners would study trends in disease, demography and financing, and then use this evidence to position the health system to respond to these imminent challenges. Country policymakers would actively mobilize domestic resources to address inefficiencies within the health system to prioritize these evidence-based challenges. Countries would also look for opportunities to collaborate across ministries and with other stakeholders when implementing solutions.
As countries transition, development partners would shift away from vertical support and adopt a cross-cutting approach to their investments, including investing in health systems strengthening (e.g., providing suitable health benefits packages and filling service provision gaps), prioritizing global public goods for health (especially by fully funding the WHO to provide such goods), and providing technical support to countries as they move through these transitions.
The 4Ds of transition are underway whether or not countries are prepared for them. Without immediate attention, we risk jeopardizing the remarkable gains made over the past 2 decades and leaving MICs behind.
Shashika Bandara (@shashikaLB) and Kaci Kennedy McDade (@Kennedy_Kaci) are policy associates at the Center for Policy Impact in Global Health at the Duke Global Health Institute.
Hanna Huffstetler (@Huffstetler_HE) is an associate in research and Wenhui Mao (@WenhuiMao) is a senior policy associate at the Center.
Sign up for our free quarterly e-newsletter, and please share the link with friends and colleagues.